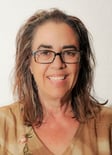 Dr. Cindy Schwarz will receive the American Association of Physics Teacher's 2017 David Halliday and Robert Resnick Award for Excellence in Undergraduate Physics Teaching. Expert TA would like to congratulate Dr. Schwarz on this accomplishment, which honors her extraordinary contributions to the Physics education community spanning nearly three decades.
Dr. Schwarz is a Professor of Physics in the department of Physics and Astronomy at Vassar College. She is the author of multiple books, an early-adopter of innovative teaching methods, and a mentor to many in the field. As an active member of the AAPT, she stays on the forefront of best practices and brings her excitement for Physics to not only undergraduate Physics majors, but also non-majors and K-12 students. She is an experienced curriculum designer, and instrumental in developing Vassar College's Physics Teacher Certification program by working with the Education Department to create a New-York state-approved curriculum.
Expert TA will likely be utilized by Dr. Schwarz and her colleagues in an introductory, Calculus-based Physics sequence at Vassar College this Fall. When asked why she chose to support the adoption of Expert TA, Dr. Schwarz said, "I was intrigued by the phenomenal Free-Body Diagram drawing capabilities that addressed the limitations of other online homework platforms. I also appreciate Expert TA's effort to actively search for and remove problem solutions from answer-sharing websites."
We are happy to see an excellent educator honored for their work, and look forward to continued innovations in Physics education from Dr. Schwarz, and her colleagues and students at Vassar College.
---
Receive blog posts and news from Expert TA to your inbox by signing up for our newsletter.
---
Formed from the belief that a homework system should help instructors teach and students learn, Expert TA harnesses the power of technology to encourage practice during homework, while also giving meaningful feedback to both instructors and students. The Expert TA blog was created to serve as a hub of information to help educators track and discuss trends in education, software and student performance.